Architectural Aluminum Finishes
In addition to our stocked Clear and Bronze anodized, and White painted finishes Alumicor offers a wide variety of additional standard anodized and painted colors. Blended custom colors are also available, providing you with an infinite variety of options. More than a palette of pretty colors, our finishes are tough and backed by some of the best warranties in the industry.
See Alumicor's Standard Finish Color Guide for detailed information on the exceptional performance, integrity and weatherability of our durable anodized finishes. This guide also gives specifications for color retention, erosion resistance and gloss retention of our high-quality, painted finishes.
With the same durability and recyclability of aluminum, Alumicor now offers the look and feel of natural wood with 12 Wood Grain Finishes. These finishes are designed for the toughest environment and are also backed by up to a 5 year warranty.
EXAMPLES >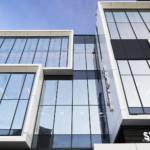 Yonge Sheppard Centre
Toronto, ON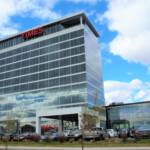 Grand Times Hotel
Drummondville, QC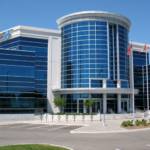 PowerStream
Vaughan, ON
Standard Painted Finishes
Linetec utilizes the most advanced equipment and techniques through its painting operation. With Linetec's in-house computerized blending capabilities, over 55,000 unique colors have been applied through its paint facility. Linetec offers an unlimited choice of colors in all architectural finish types: 70% fluoropolymer, 50% fluoropolymer, and baked enamel paints. This also includes specialty type paints such as metallics, micas, and Linetec's Antimicrobial and Terra-Cotta specialty coatings.
Acid Etch Environmentally Mindful Material and Finishes


Introducing our new environment-friendly finishes, and an industry-leading recycled aluminum content.
OUR GREEN MISSION:
To become the leader in providing our clients with the optimal overall package. Superior energy efficient and labor-saving products; environmentally mindful material and finishes; premier service and competitive pricing.
Aluminum Billet. Alumicor offers an industry leading recycled content in our billet. This presents an outstanding opportunity for clients to assist with LEED projects without adding lead-time or cost.
Anodized Finish. Environment-friendly acid etch anodizing produces only 1/10 of the sludge that the traditional caustic-etch process does. This equates to 90% less waste into landfills.
Superior Thermal Performance. Alumicor products provide superior performing Condensation Resistance (CRF) and Thermal Conduction (Uc) which help save energy and money.
A Complete Package. The optimal recycled aluminum composition combined with the new finish process offers an exceptional overall green package.
Alumicor's New Environmentally-Friendly, Acid Etched Anodize offers a "Frostier" Matte Finish
We've made changes to our etch chemistry, in the anodize process, from traditional caustic etch to a more environmentally-friendly acid etch process. In addition to its green attributes, acid etch creates an aesthetically appealing, "frostier" matte finish.
Wood Grain Finishes by Alumicor® have the look and feel of natural wood with the durability and recyclability of aluminum. No more refinishing due to salt, dirt and UV exposure. Our Wood Grain finishes are designed for the toughest environment and clean easily with mild soap and water. ** Wood Grain Finishes by Alumicor® can be applied to the interior and exterior of ALumicor's storefront, entrance, curtainwall, sunshade and light shelf devices.