Team spirit contributes to community's win with new hockey arena
While every building project shapes our skylines and communities, it is especially exciting when we have the opportunity to help create the spaces where our colleagues live, work
and play.
The City of Mirabel, Quebec, is home to several Alumicor associates and clients including Groupe Brosseau Vitrerie. Planning for a growing population, the City collaborated with TLA Architectes to expand and update the Complexe Val d'Espoir hockey arena in the Saint-Janvier sector.
Once the design was approved for construction, Alumicor's client development manager Maxime Allain and architectural representative Jennie Lamoureux, CSI, FMPC, in collaboration with Groupe Brosseau Vitrerie, were ready to answer the call.
"Each of us have an emotional connection to this project," said Allain. "My son play with the local hockey team. Employees' families from both Alumicor and Groupe Brosseau Vitrerie benefit from this arena." The facility primarily is used for school teams, child and adult amateur leagues, skating lessons and training, public and private events, and other activities.
Sounding similar to a hockey coach, Jonathan Brosseau, president and general director of Groupe Brosseau Vitrerie, emphasizes success through planning, passion and teamwork. He noted that after careful analysis, "When we decide to move ahead, we put all our energy and our knowledge into it. We give the best of ourselves as a team. I am grateful to have a job that I'm passionate about and to have the opportunity to collaborate with people to achieve such beautiful results."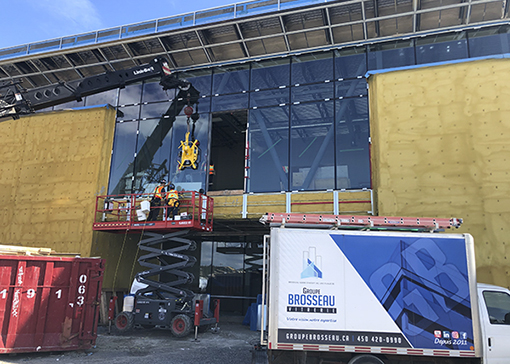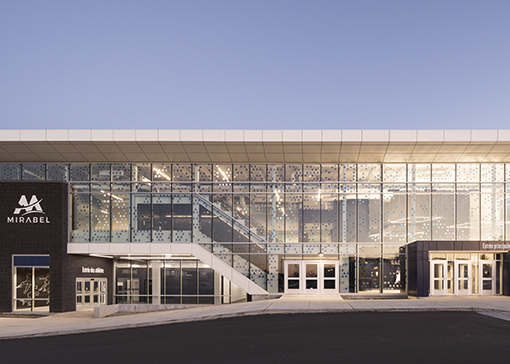 The improved arena conveys a greater sense of connection within a larger, modern and more comfortable setting. The building envelope consists of a large, glass and aluminum-framed curtainwall on the entrance façade, bringing natural light into the lobby and offering a peek into the skating rink from the exterior. Continuing the view inside, Alumicor's interior framing systems transparently separate the concourse and the arena.
"Our standard systems allowed for a versatile, cost-effective approach that met the project specification," said Lamoureux. Alumicor's doors and entrance systems were paired with a surrounding enclosure of blue wall panels and signage to designate the main public entry and differentiate it from the players' entrance.
The curtainwall's glass was custom-printed in a colorful polka-dotted pattern. According to TLA Architectes, this cloud of multicolored points was inspired by winter precipitation and its intrinsic link to the practice of ice sports. Lamoureux noted, "The combination of materials and TLA's design creates an overall welcoming, energetic effect."
The multifunctional space not only accommodates the City's fourth indoor rink, but also provides an event venue with capacity of up to 1,000 people. The two-story, 4,225m2 (45,477ft2) building houses the new National Hockey League-sized rink plus bleachers for 760 fans, six players' locker rooms, a referees' locker room and coaches' rooms. On the second floor, a multipurpose public space acts as a foyer. A pro-shop counter, mechanical and electrical rooms, a resurfacing room, a food court and several other support spaces complete the new facility.
Consortium M.R. Canada Ltée. of Mirabel served as the project's general contractor, beginning construction in 2019. The existing arena remained in operation throughout its renovation and expansion. Groupe Brosseau Vitrerie worked closely with the general contractor and other trades to minimize disruption to the people using the arena. The new addition opened in March 2021.
Ice skating and, in particular, ice hockey are an essential part of life, health and socialization for many Canadians. Credited as having originated in Montreal, contemporary ice hockey is recognized as the official national sport with an estimated 37,500 organized leagues and 1.2 million Canadians who play.
In a survey of parents, 92% agreed, "Skating is a basic skill all Canadian children should have the opportunity to learn." Four in five parents said they knew how to skate. Half said their child learned to skate between the ages of 5 and 8, and 38% said their child learned between ages 2 and 4.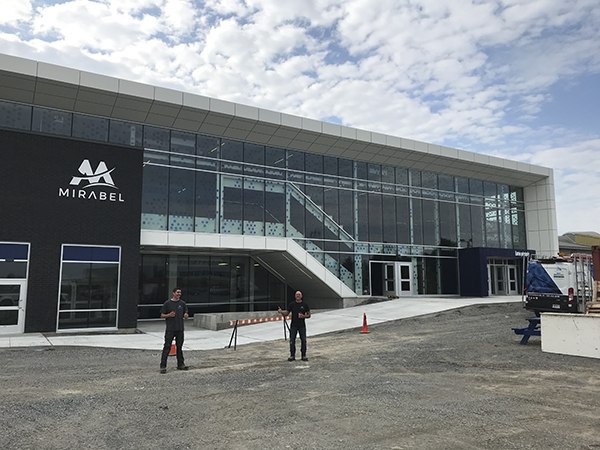 While Canadians happily take to the ice in winter, we also appreciate the indoor arenas that make it easier to watch and celebrate our teams – whether they're our children, our coworkers or elite professional players. Canada has the most indoor hockey arenas of any country – 2,860, which is nearly double the number in the U.S. Today, the City of Mirabel hosts 20 outdoor winter rinks and four indoor arenas for its 59,612 residents.
"The reward to see a finished, beautiful and successful project make it all worth it," said Brosseau.
Lamoureux agreed and concluded, "We're proud to have been part of this project in our community, and to enjoy all that the Complexe Val d'Espoir offers our families, friends and neighbors."